10 Healthy Thanksgiving Leftover Recipes (That Aren't Casseroles)
By Jess Novak
|
November 22, 2021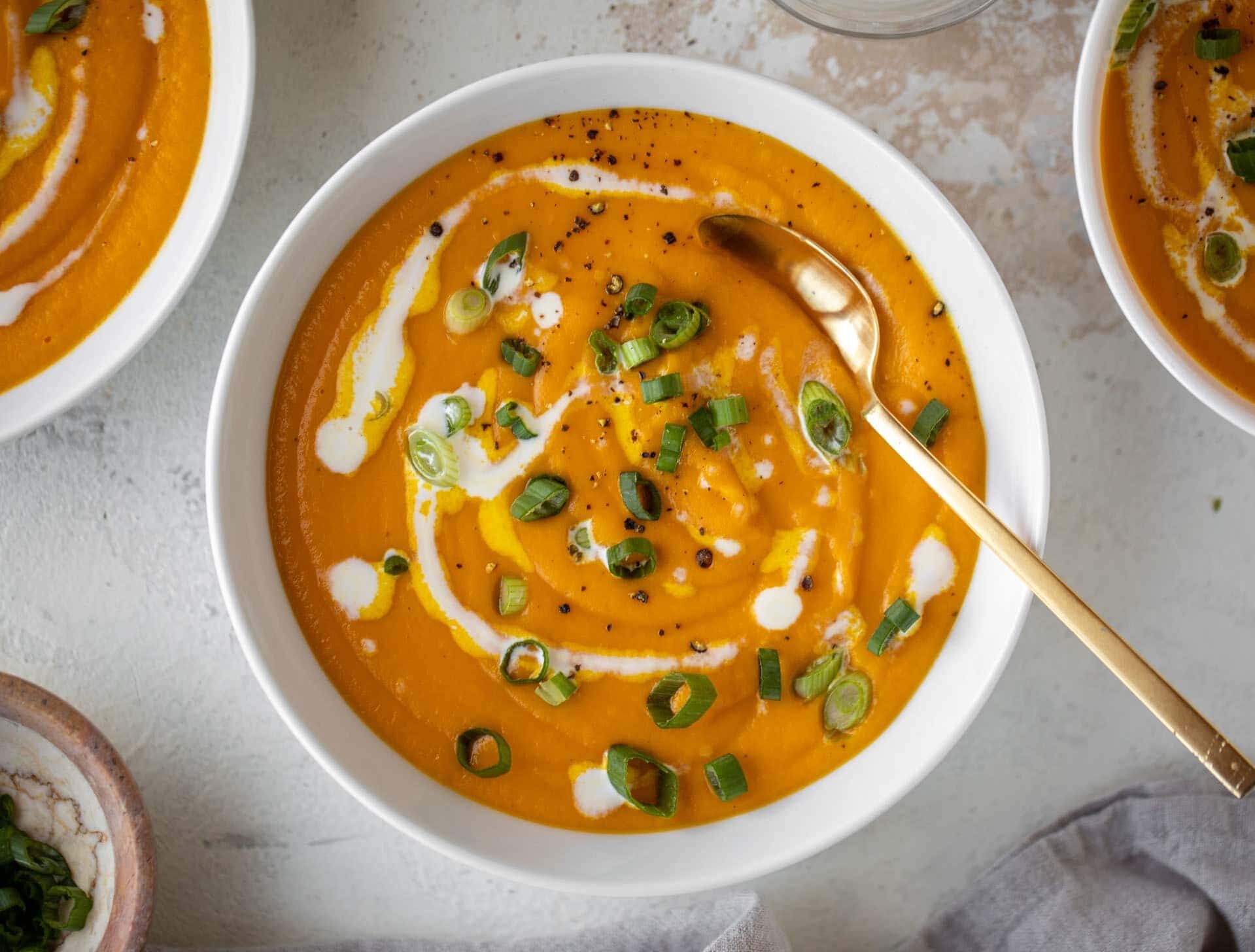 Look, we're not anti-casserole (or as they're called when you're trying to be cool about it, "bakes" ) but you're probably already well aware that you can toss a lot of your Thanksgiving dinner leftovers into a baking dish. It's a totally legitimate, long-standing practice — but if you're looking for something that's just a hair different (and also a healthier, lighter final product), we've got you covered. These healthy Thanksgiving leftover recipes make great use of all the classic dishes sitting in your fridge right now — plus, they're varied enough to keep you from getting bored of the same ingredients.     
In the world of fashion, the 90s are seriously back, so we think it's high time that 90s appetizers have a resurgence, too. Stuffed mushrooms saw their heyday in the same era that gave us far too much sundried tomato and focaccia, but we're all about a quality throwback. This recipe is a great way to use up leftover stuffing (or keto stuffing), and since they take just 30 minutes to make, stuffing-stuffed mushrooms are the perfect snack to put out for friends who stop by around the holidays.
Breaking out the waffle iron may give you brunch vibes, but the truth is, this dish can be enjoyed for any meal. Even better, this cooking method doesn't require any extra oil. (Although you do have to spritz the iron once in a while, just not every time you use it. Promise.) These mashed sweet potato waffles are a great way to use up whole or mashed sweet potatoes, and can be enjoyed on their own or served as a side dish with leftover turkey, giving you a fun, seasonal play on chicken and waffles.
After a big, heavy meal like Thanksgiving, sometimes all you want the next day is a light salad… but you still have all those leftovers to eat. This niçoise salad is a great way to use up leftover green beans and baby potatoes — and while it calls for tuna (it's a niçoise, after all) you can sub that out for turkey if you've got way too much bird on your hands.
This turkey curry is such a great way to avoid holiday flavor fatigue. As we prep Thanksgiving dinner for days, we end up tasting and re-tasting the same dishes dozens of times, which can mean that we're pretty bored of the same flavor profile by the time Black Friday rolls around. This leftover turkey curry recipe uses up a good amount of the largest leftover-maker, while changing up the spices so much that you're actually excited to eat turkey again. We'd serve this over cauliflower rice and wilted baby greens.
Read next: Delicious Recipes That Start With Coconut Milk
This is one of our favorite Thanksgiving leftover recipes. Roasted carrots get a whole new life in this carrot coconut soup. And if you choose to roast your carrots with parsnips this year, so much the better — this soup would also be excellent with the addition of practically any other root vegetable, including sweet potatoes. This recipe also freezes very well in case you want to clear the fridge out (but don't want leftovers to go to waste). 
Turkey tetrazzini is a time-honored way to make use of leftover turkey, but it's also extremely rich (and carb-heavy). If you're looking for something a little lighter, try this recipe for turkey tetrazzini spaghetti squash boats. It maintains all the same flavors as the original, but replaces the spaghetti with spaghetti squash for a low-carb, healthier option. (Plus, the final presentation is pretty cool-looking).
Use leftover Brussels sprouts — and any other leftover roasted vegetables, for that matter — with this quinoa base, and you've got a lunch or dinner that will leave you energized, not heavy-feeling. What's really special about this recipe is the dressing, which is so delicious (and low-sugar, to boot). It calls for just one teaspoon of maple syrup for six servings. 
An excellent way to use up leftover turkey breast and leftover mashed potatoes, this is probably the most classic of the healthy Thanksgiving leftover recipes we've included here. This turkey pot pie recipe maintains all the traditional flavors of Thanksgiving dinner, but puts them together in a new format for a little variety. Pro tip: If you want to avoid cornstarch, just swap it out for arrowroot powder. 
It's always a good idea to eat more vegetables for breakfast, and this Brussels sprout hash is one of the tastiest ways to make that happen. To use leftover Brussels sprouts from your Thanksgiving table, just skip tossing them into the pan after you're done sautéing the onion. This is a great, satisfying keto breakfast — or leave out the eggs for a great side dish with dinner. 
If you have a ton of roasted cauliflower on your hands, check out this herb-filled cauliflower salad. It's great served room-temperature or cold, and we have it on good authority that it's delicious when eaten straight from its container in the fridge, too. If you want to, you can also definitely mix some shredded turkey breast into this one. 
Jess Novak is the Head of Content and Audience Development for Clean Plates. She's obsessed with making meals that taste like they're not healthy but secretly really are. You can follow her on Instagram @jtothenovak. 
Read next: 7 Ways to Make Delicious, Easy Sweet Potato Toast
Good food brings people together. So do good emails.
What our editors love right now