Sponsored
Brought to you by
Four Ways I Get Enough Fruits & Vegetables When I'm Too Busy to Cook
By Danielle Centoni
|
October 4, 2021
A few years back, the USDA released new guidelines recommending people eat five to nine servings of fruits and vegetables a day. Nutritionists rejoiced! But to me, it was a gut punch — a bar set so high I didn't even want to try. Don't get me wrong, I adore all kinds of fruits and vegetables, and my version of retail therapy is going broke at the farmers market. But between incessant work deadlines, unrelenting parenting demands, and my never-ending battle against the laundry monster (it always wins), sometimes it's hard to find the time to boil up a pot of noodles and open a jar of sauce, let alone wash, prep, and cook a slew of vegetables for every meal.
But I've been giving the five-to-nine goal my best shot, and found four tricks that have really helped me eat more fruits and vegetables throughout the day.
1. Skip the cracker aisle…
Filling up on so many whole foods for breakfast and lunch means I don't snack nearly as much as I used to. But when I do, I swap out processed snacks for fresh fruit. It sounds like a no-brainer, but it really took a concerted effort to break myself of the habit. Now, instead of stocking our pantry with pretzels, chips, and crackers, I load up on things like berries, grapes, apples, carrots, and sweet peppers — whatever's in season and requires nearly zero prep (otherwise, as my kids insist, it's no longer a snack, it's cooking).
2. …but don't skip breakfast or lunch
I used to think these meals were optional. If you drink enough coffee in the morning, who needs breakfast? If you stuff your face with enough snacks in the afternoon, who needs an actual lunch? But breakfast and lunch aren't just mealtimes, they're opportunities: a chance to fuel up with antioxidants, vitamins, and fiber — all things your body needs to stay healthy for the long haul.
The trouble is, most mornings are too hectic to spend time considering what to cook for breakfast or organizing a healthy lunch. But I've found a way to stock up on plant-based options that require zero extra thought on my part: Daily Harvest. They deliver delicious smoothies, bowls, snacks, soups, flatbreads (even plant-based ice cream!), and more packed with fruits and vegetables. In fact, all of their food is gluten-free, dairy-free and plant-based, without added sugar or preservatives. The ingredients are 95% organic and frozen the day of harvest, so they lock in genuinely amazing flavor and great nutrition. And I love that the deliveries are flexible: I can order big when I need to, or just opt for smoothies if I know I'll need to work through a backlog of leftovers for lunch that week. And I can pause or skip whenever I want.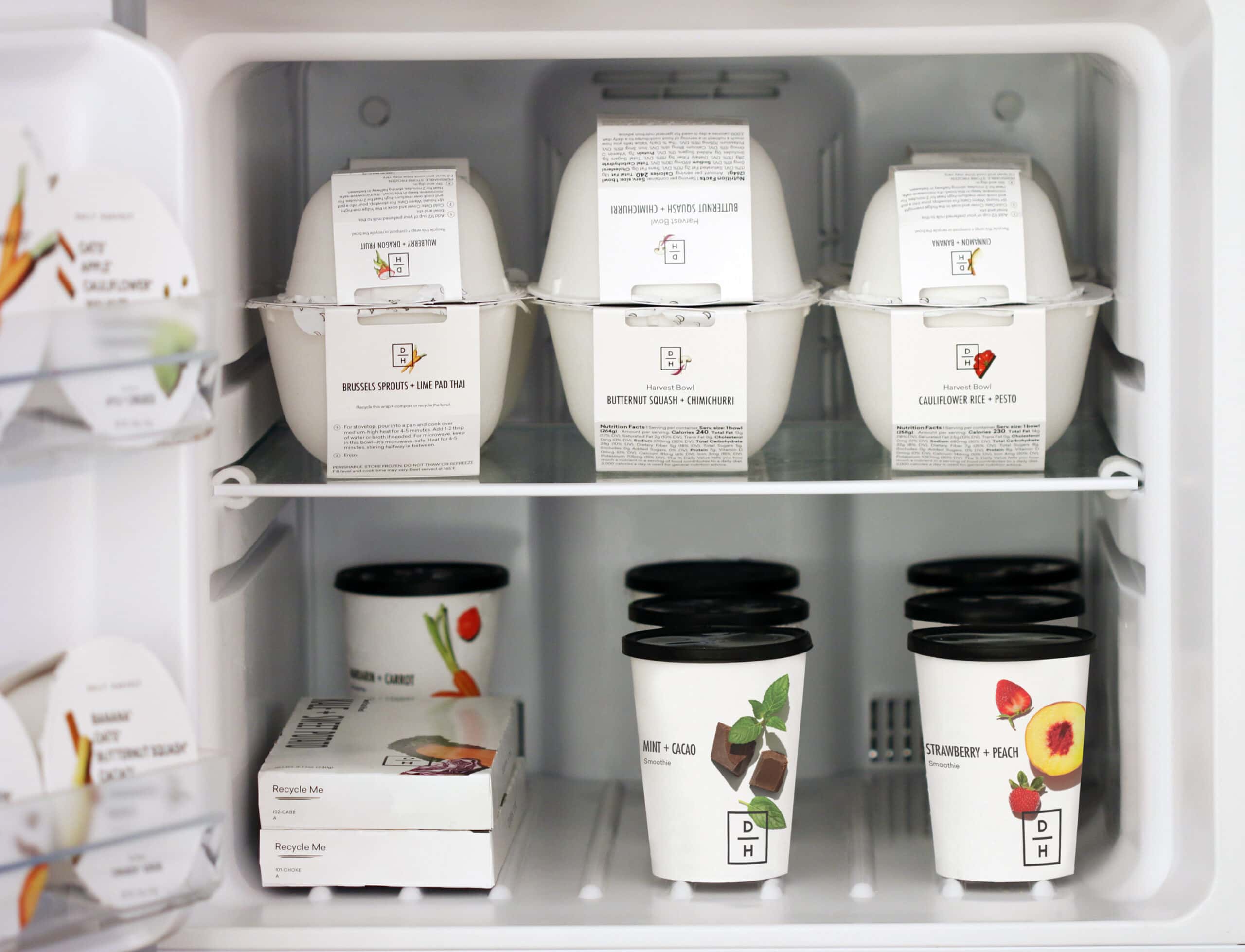 During my busiest weeks, Daily Harvest allows me to eat healthy and be out the door in minutes since they take just a couple minutes to whip up a Ginger + Greens Smoothie in hand (they're my absolute fave). The flatbreads are delicious, and I save them for days when I work from home so I can heat one up in the toaster oven. Seriously, I could go for the Pear + Arugula one every day. Grassy greens, juicy diced fruit, lemony hemp "ricotta" and sprinkle of nutty pecans… it's so good. Ok, I'll stop gushing over DH now (that's right, we're so close that's how I think of them).
3. Replace half the rice with cauliflower
Simmer sauces are my go-to when I'm too busy to cook from scratch. For the uninitiated, simmer sauces are jarred sauces that you pour into a saucepan, toss whatever vegetables and proteins you have on hand into, and bring to a simmer until everything's cooked to your liking. They're delicious, incredibly quick, it's easy to find low-sugar options, and they're perfect poured over rice… which means we go through a lot of rice at my house. But my attempts to swap out classic steamed rice for cauliflower rice have been met with contempt bordering on fury. Some people love the stuff, but my family members are not those people. Luckily, I've learned a trick: Make a 50-50 mix of steamed rice and cauliflower rice, and they don't even know it's there. The combo makes a great base for fried rice, too. (Ok, one more moment to praise Daily Harvest: when even making a simmer sauce and rice dish is just too much of a struggle, I totally rely on their bowls — the Brussels Sprouts + Lime Pad Thai is just so good).
4. Ask one simple question
I've made it a habit, no matter what I'm making, to ask myself a simple but very important question: Can I add vegetables to this? If I only have time to scramble up a quick egg, I can still add a handful of frozen spinach or kale. If lunch is a speedy sandwich of hummus on bread, I add a handful of pre-grated carrots or salad from a bag. Defaulting to canned chili for dinner? I simmer in a few cups of frozen diced squash. Basically, before I take a bite of anything, I'm always asking myself if I can add more vegetables. The answer is usually yes.
Ready to stock up on plant-based meals? Use promo code CLEANPLATES2021 to get up to $40 off your first Daily Harvest box.
Good food brings people together. So do good emails.
What our editors love right now